My friend 'The Sisko', myself, 0 beers, some Mexican food, and a DSLR camera met up to slam some ham this weekend. Here are the uncensored pictures of our hot and sweaty 30k on 40k action. Sisko insisted I avoid pictures of his army, but his painting has come a long way and I managed some nice glam shots of his newly painted assassins. The lineup was 1850 points of 30K Pre-Heresy Iron Warriors vs his 40K Space Wolves. Sisko brought a wolf lord (on a wolf), thunderwolf squads, a long fang missile squad, marines in a baby assault ram, some deep striking terminators, and a pair of assassins as allies. I brought a chaplain, tactical blob, breacher siege squad, pair of vindicators, thudd gun, predator command tank, and allied in a Castellax + Magos. We played on one of the best tables I've ever Warhammed on:
(each image is large and you can open it in a new tab to check out the little detail)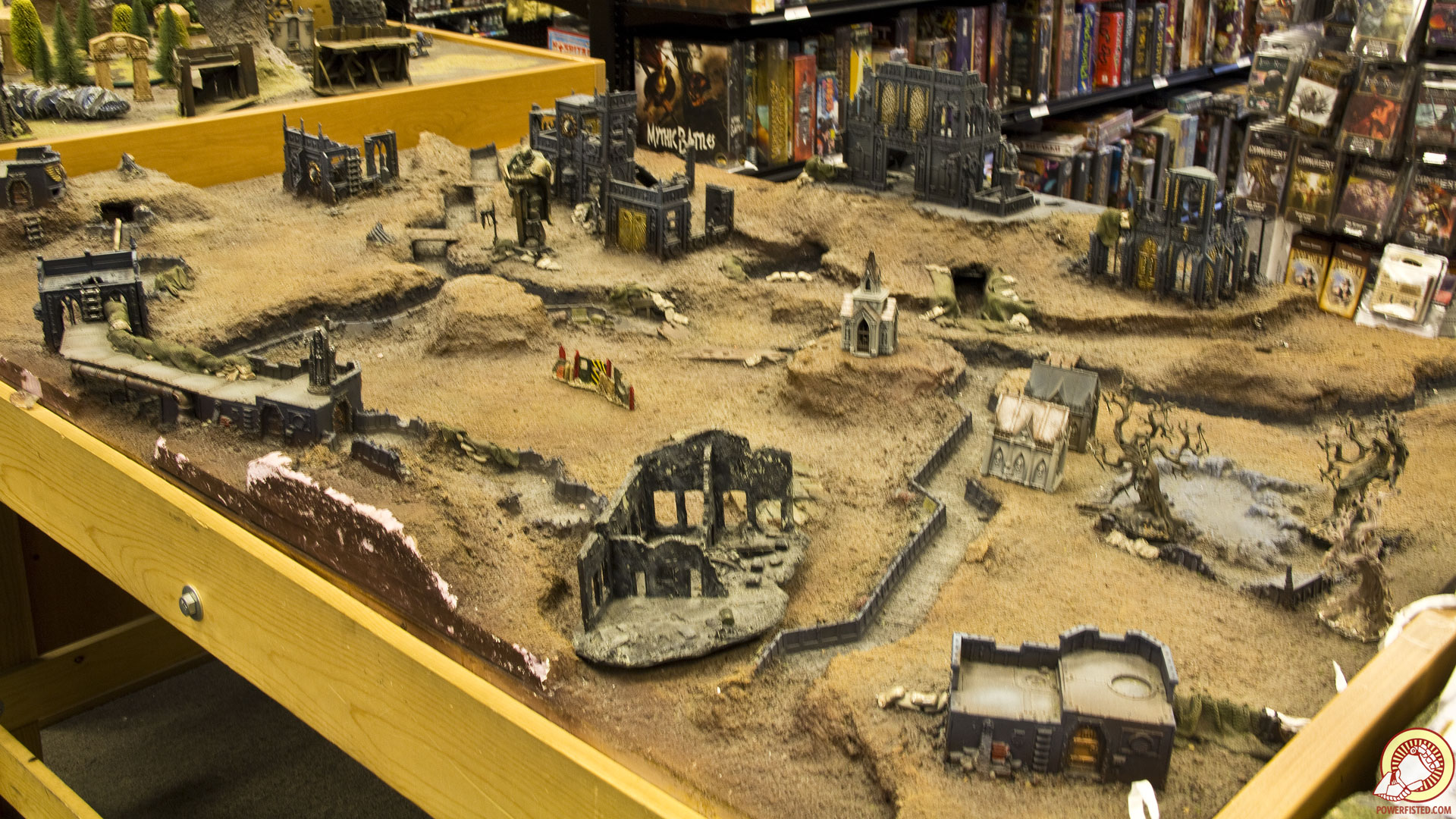 We used 40k rules, but Heresy deployment: kiddie corners with an 18" no man's land in the middle of the board. For primary objectives we rolled 'Emperor's Will' with one objective in my corner and one in his. I won deployment and let Sisko deploy first. He deployed in heavy cover. Here's the view from his deployment zone into mine: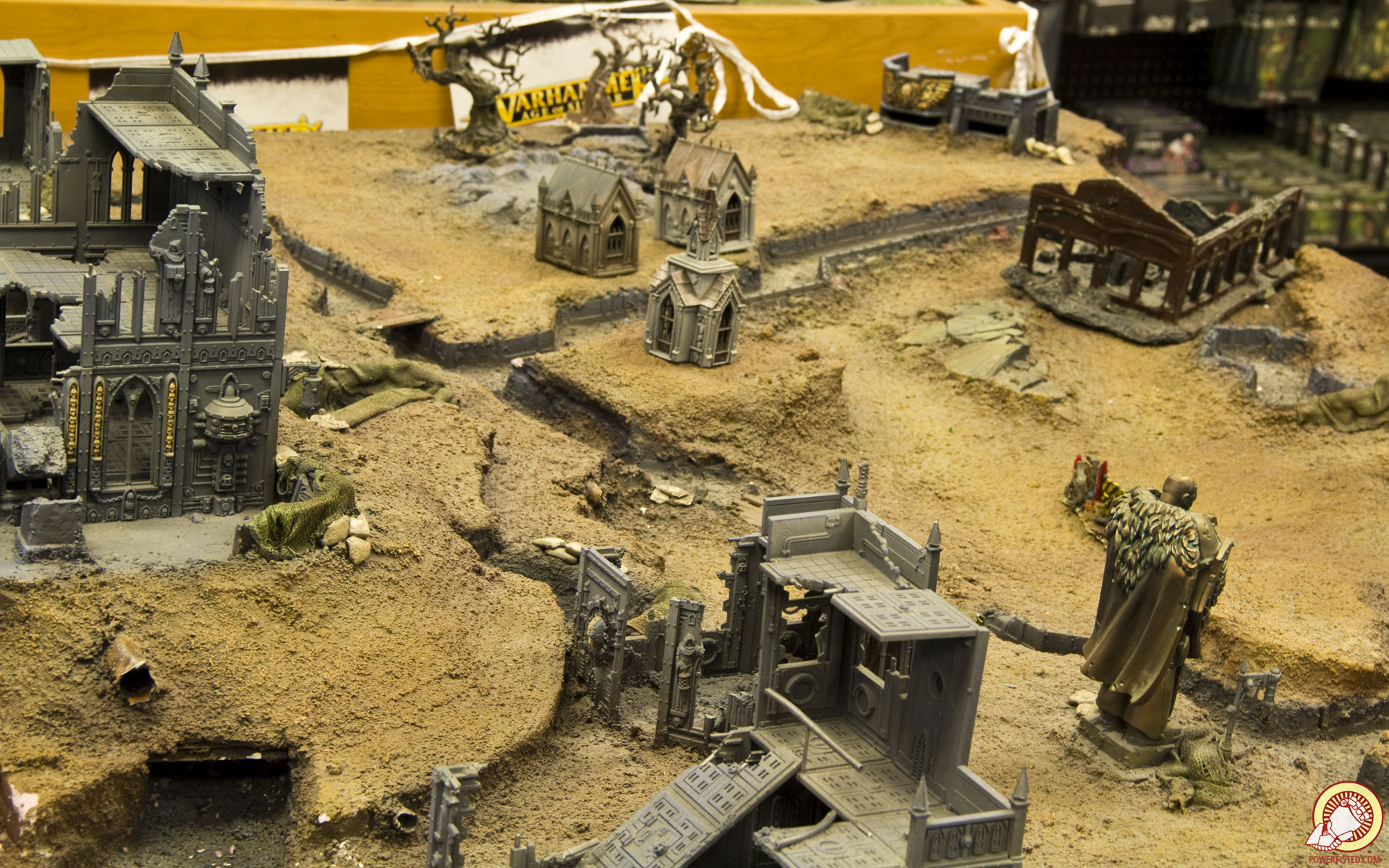 My legion deployed lined up along the trenches: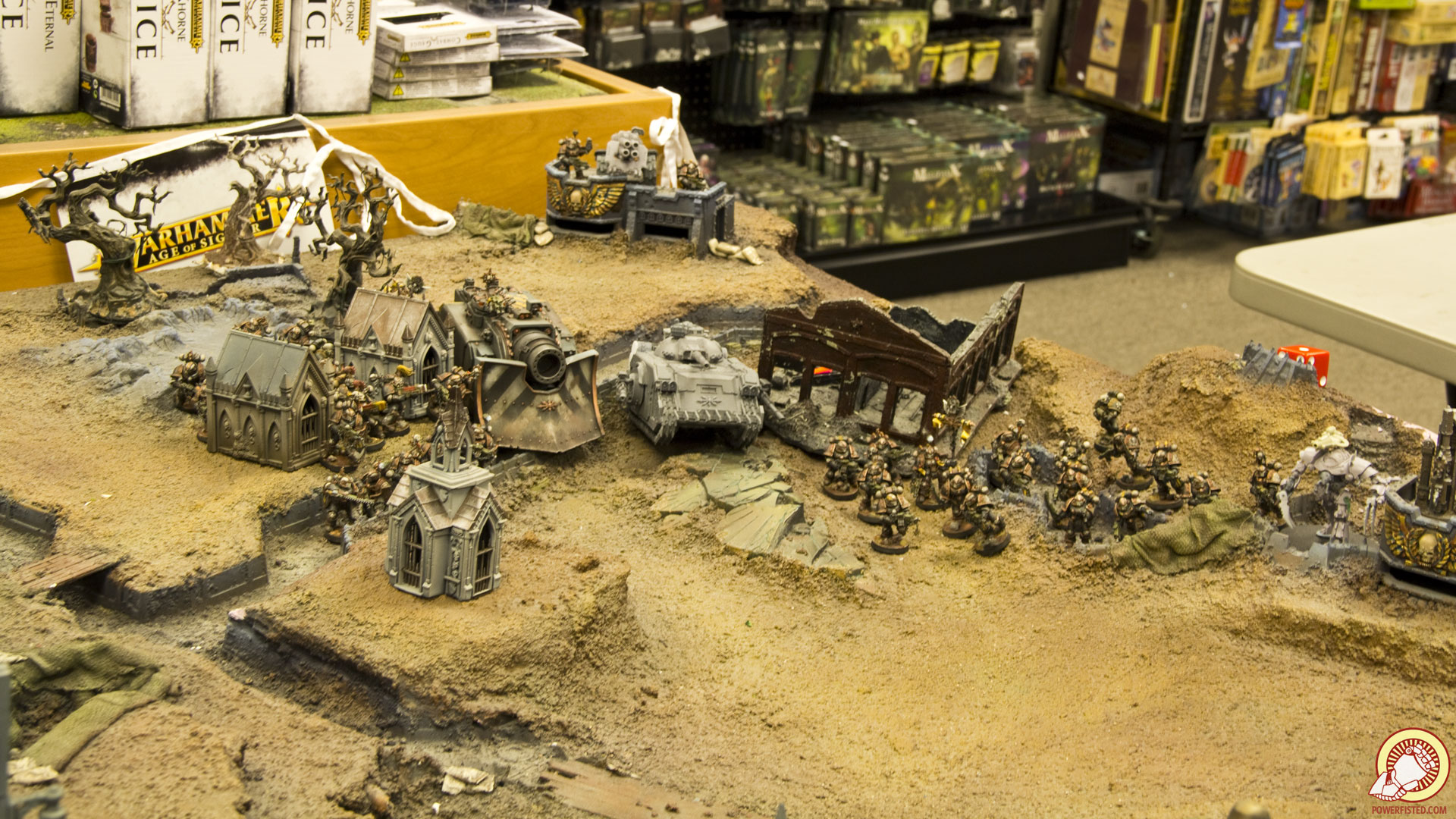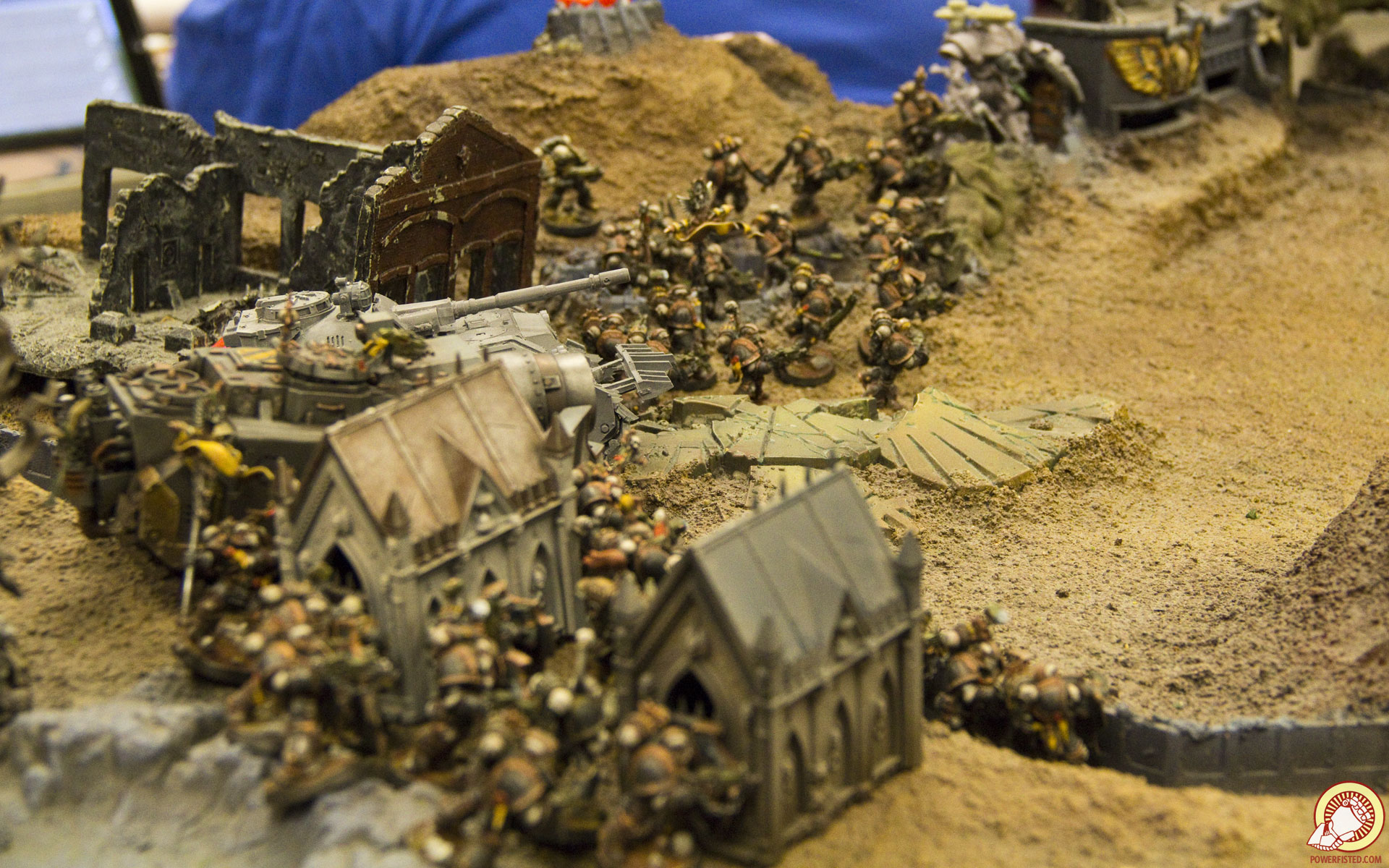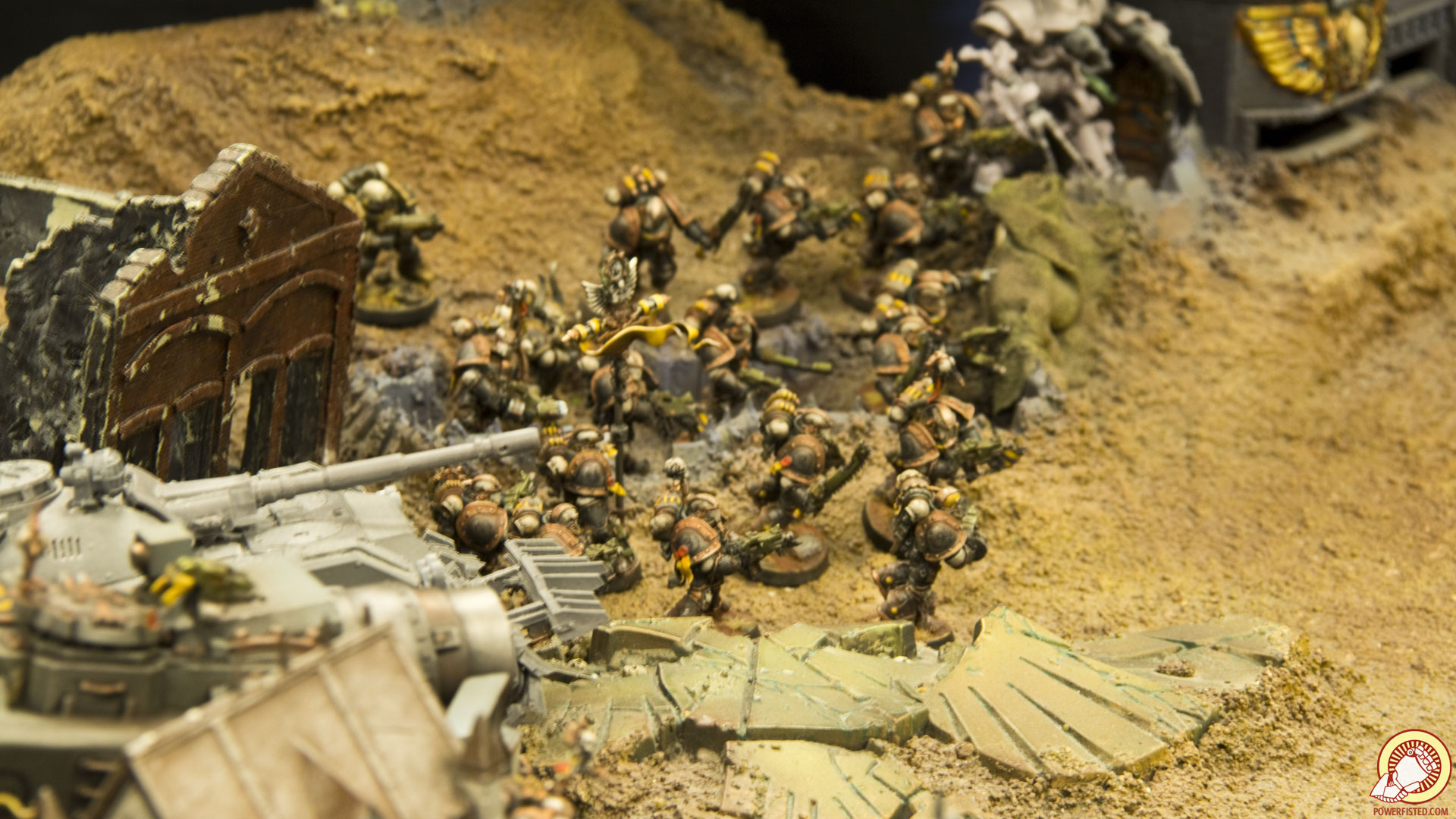 Sisko chose the better of the two deployments and had both high ground and a major cover advantage. He plopped his Vindcare on an awesome perch that had a clear field of fire on everything: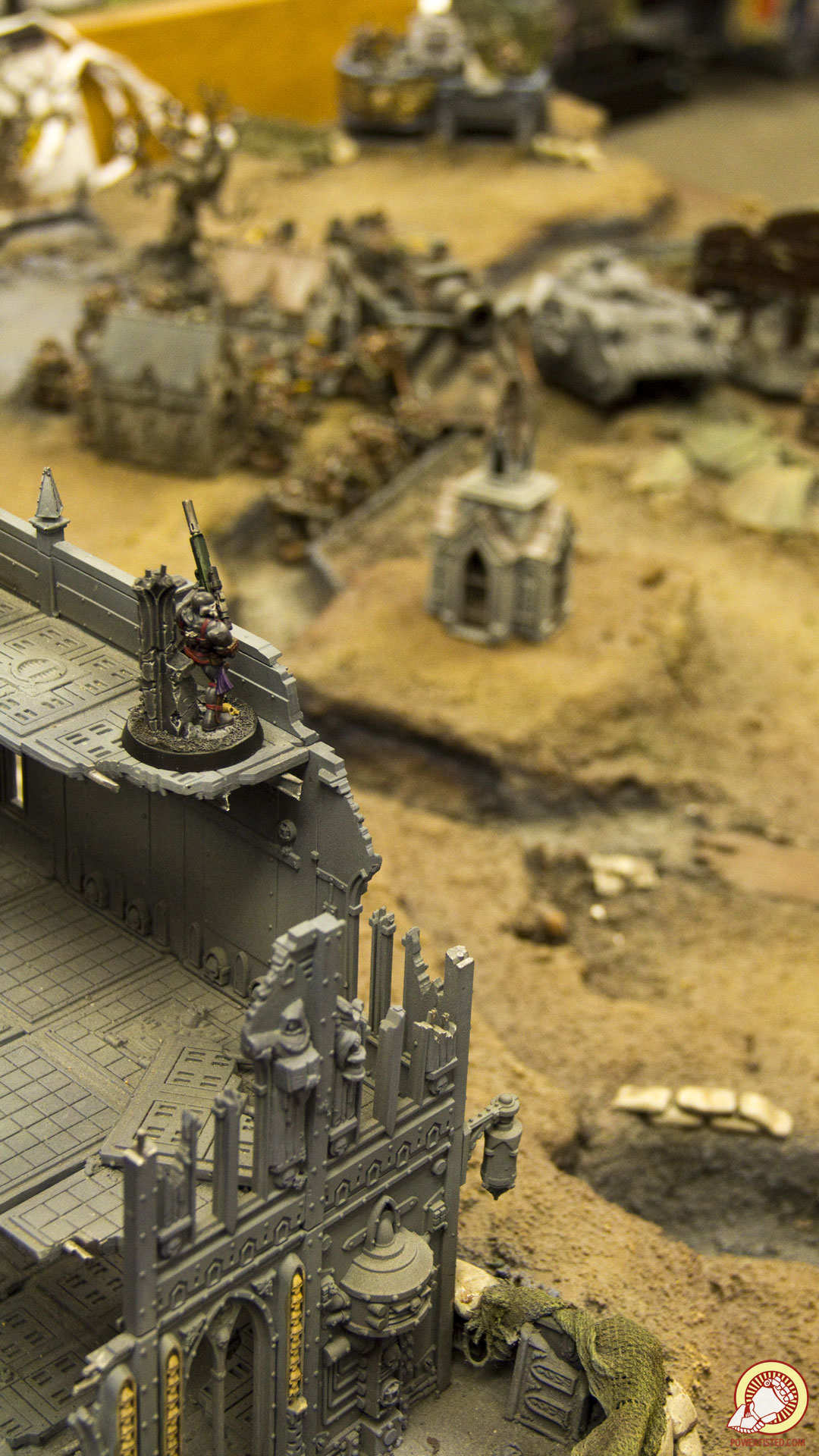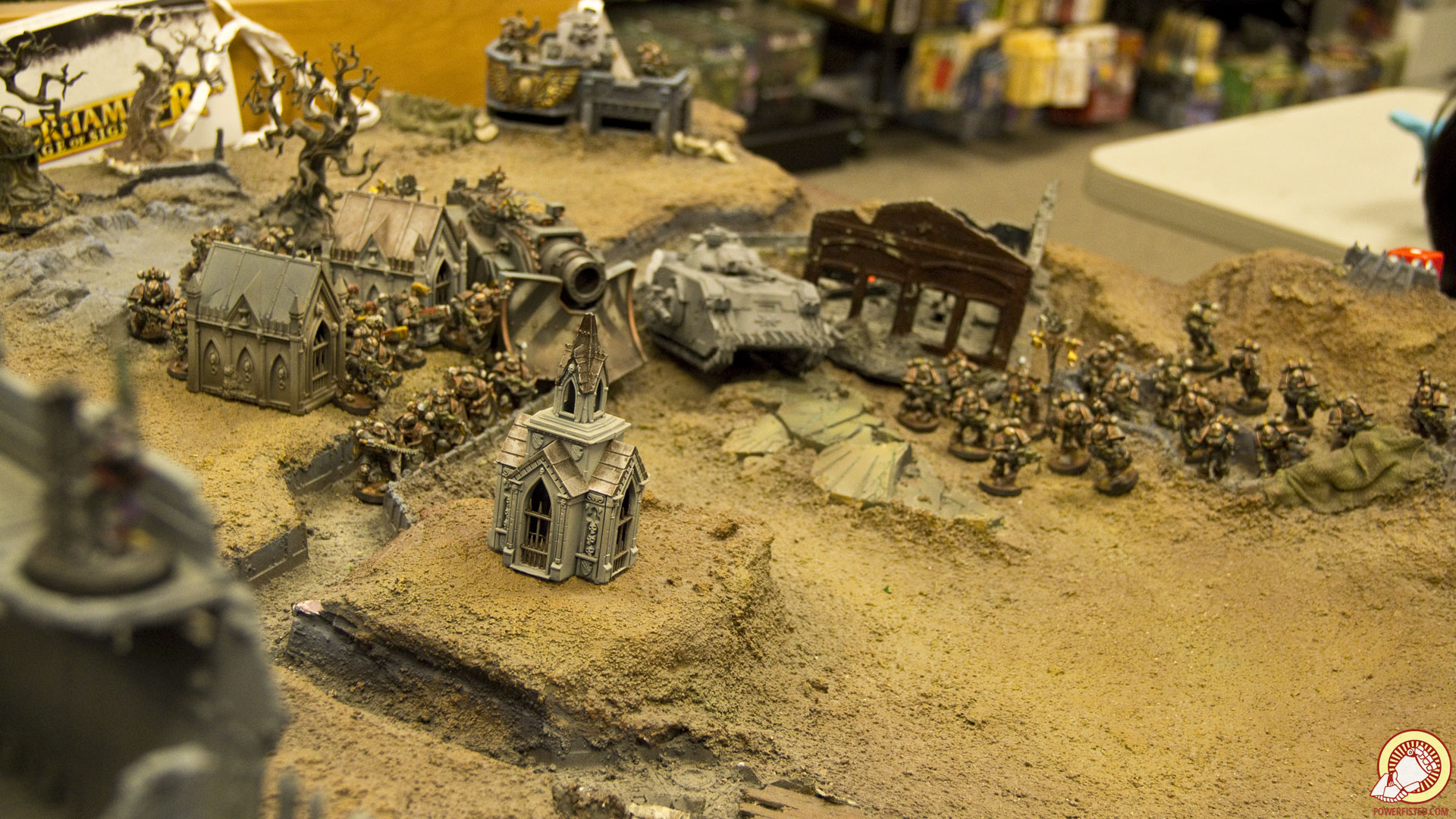 Sisko put his wolves and lord front and centre with the long fangs and some cool HQ dude in his backfield ontop of an objective. Having been steamrolled by his wolves before, they were definitely a threat for my leadership 9 Legionaries: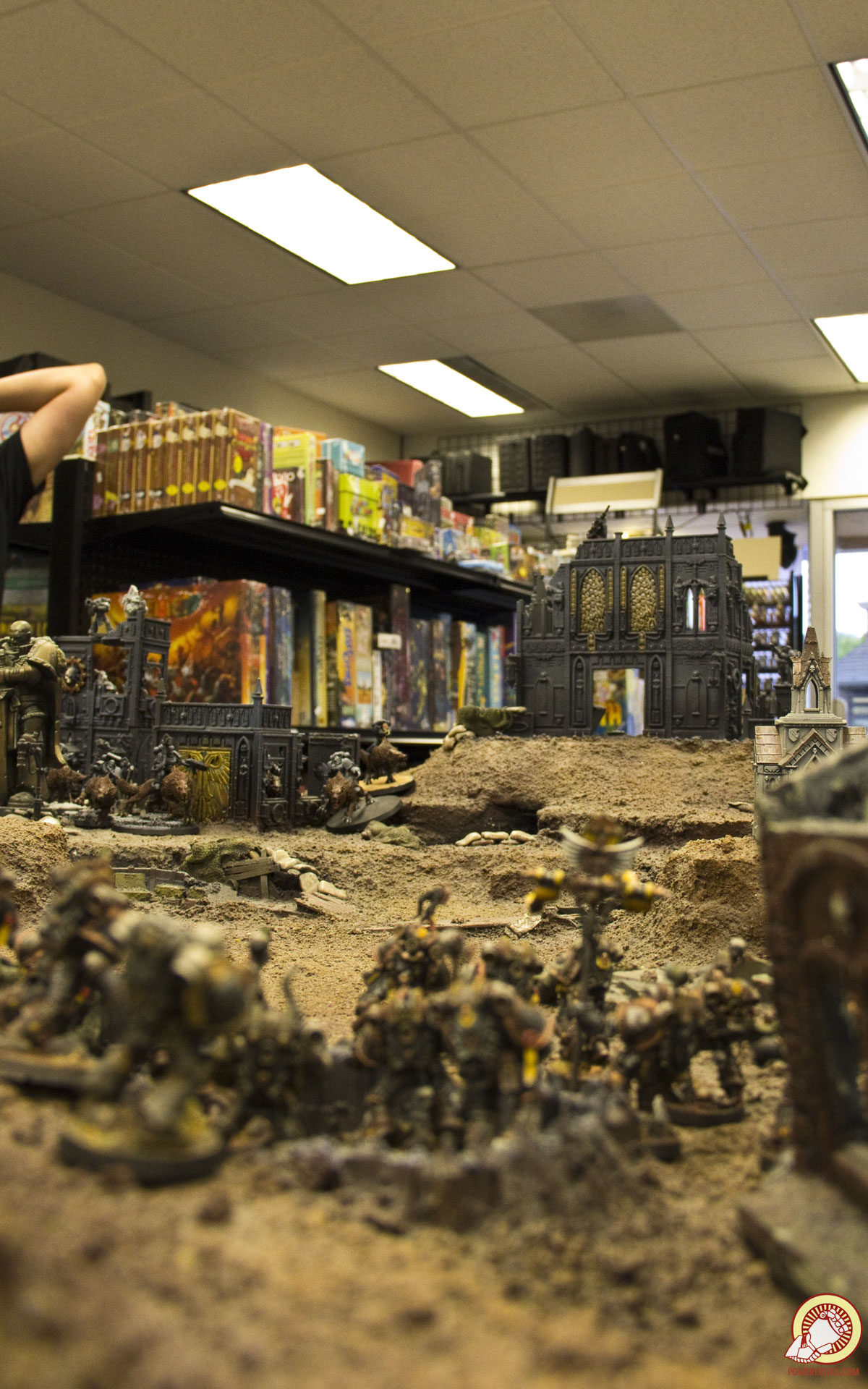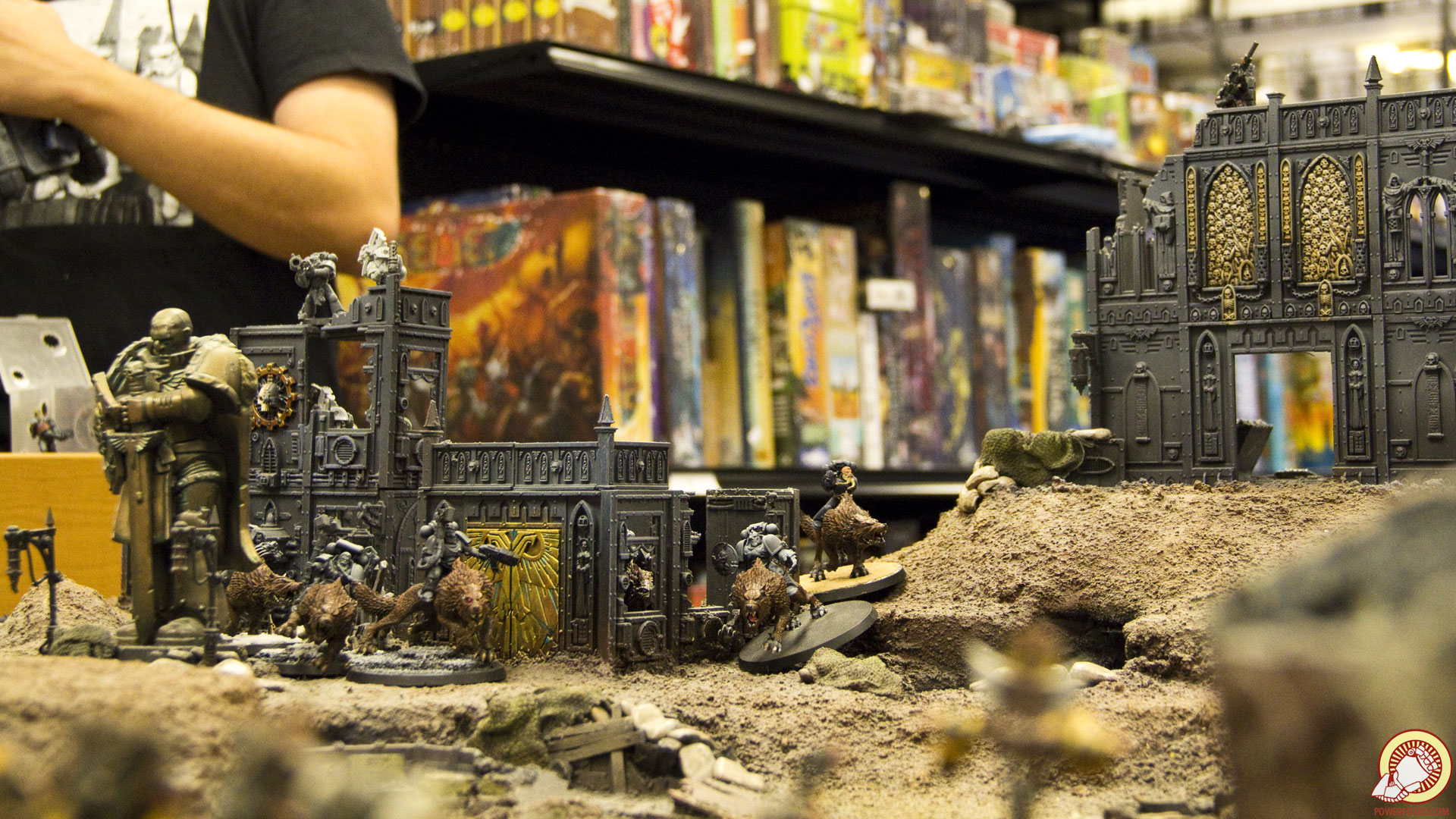 Oh yeah. He also had a crazy skull assassin dude running at me from my left flank. Hell yeah: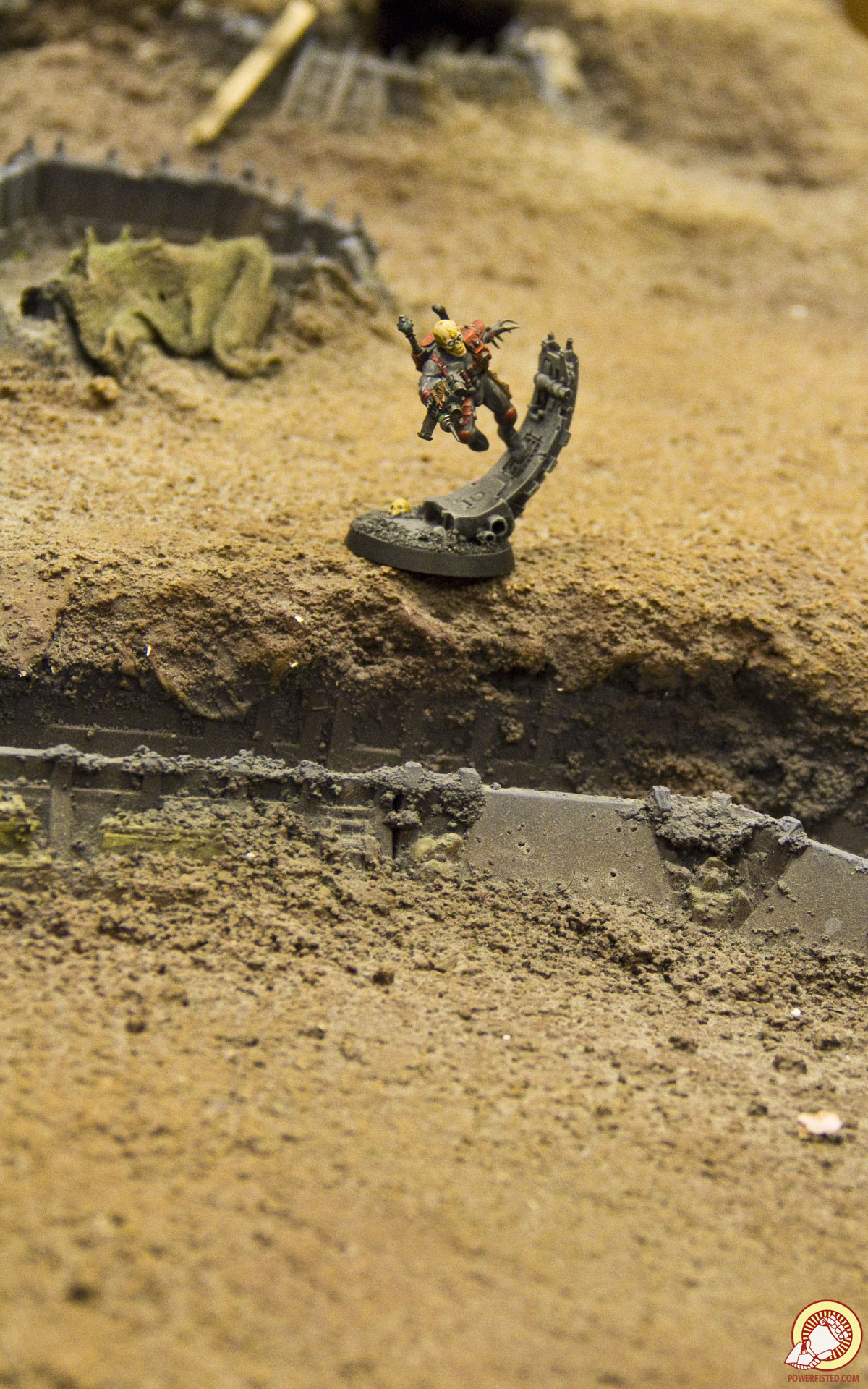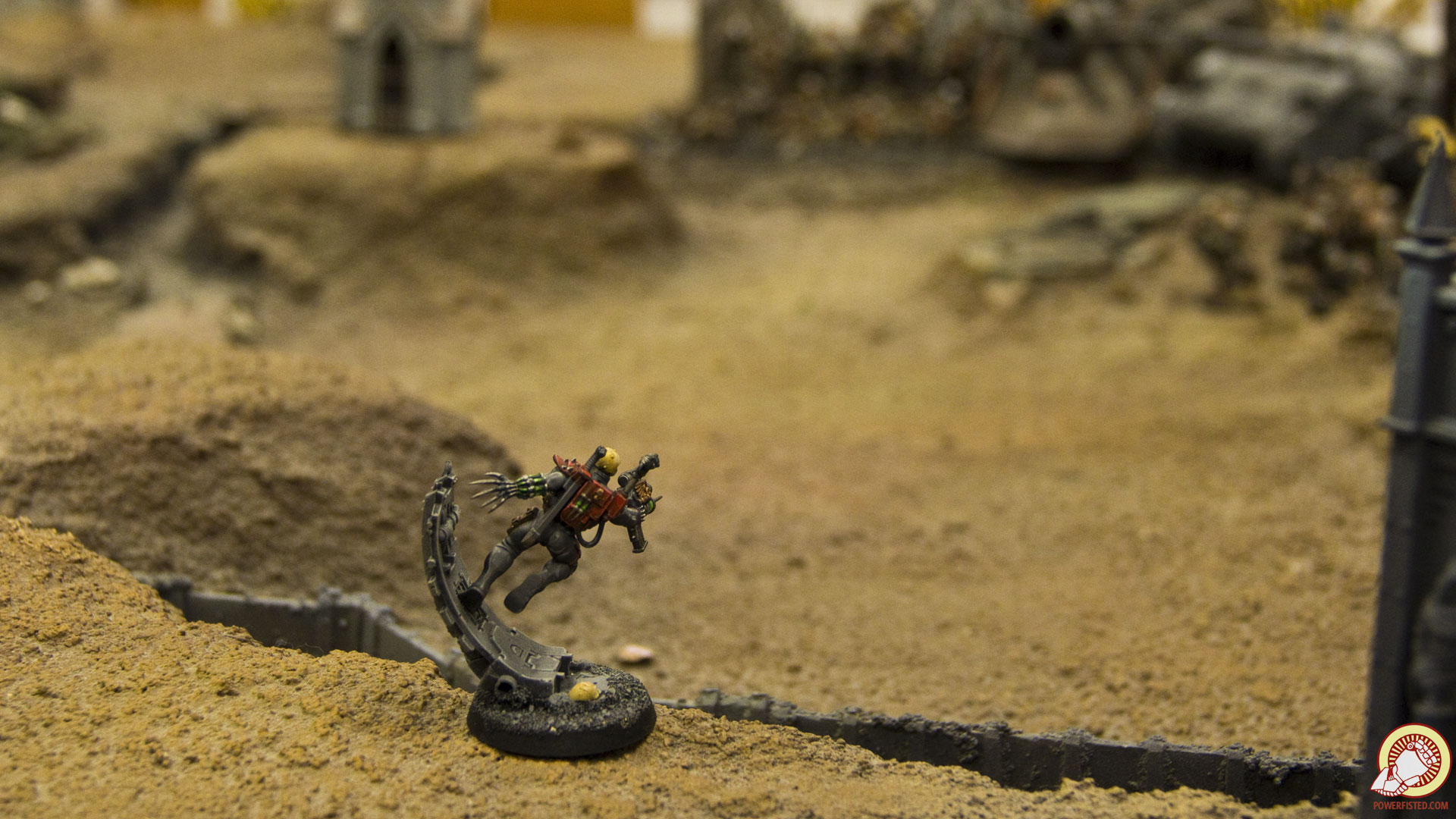 I won first turn and preceded to pie plate his wolves the best I could. My thud gun proved it was just as good as a Vindcare and put a wound onto it from my backfield. My blobs moved in a more defensive position in anticipation of his troops charging forward and put some wounds on the wolves and Eversor. I moved my Castellax up to block any charging units, shot his cavalry, overheated, took a wound, but managed to blind them. On his turn, Sisko moved everything up as far as it could go. His longfangs smacked the shit out of my command tank, giving him first blood, and making it a wreck.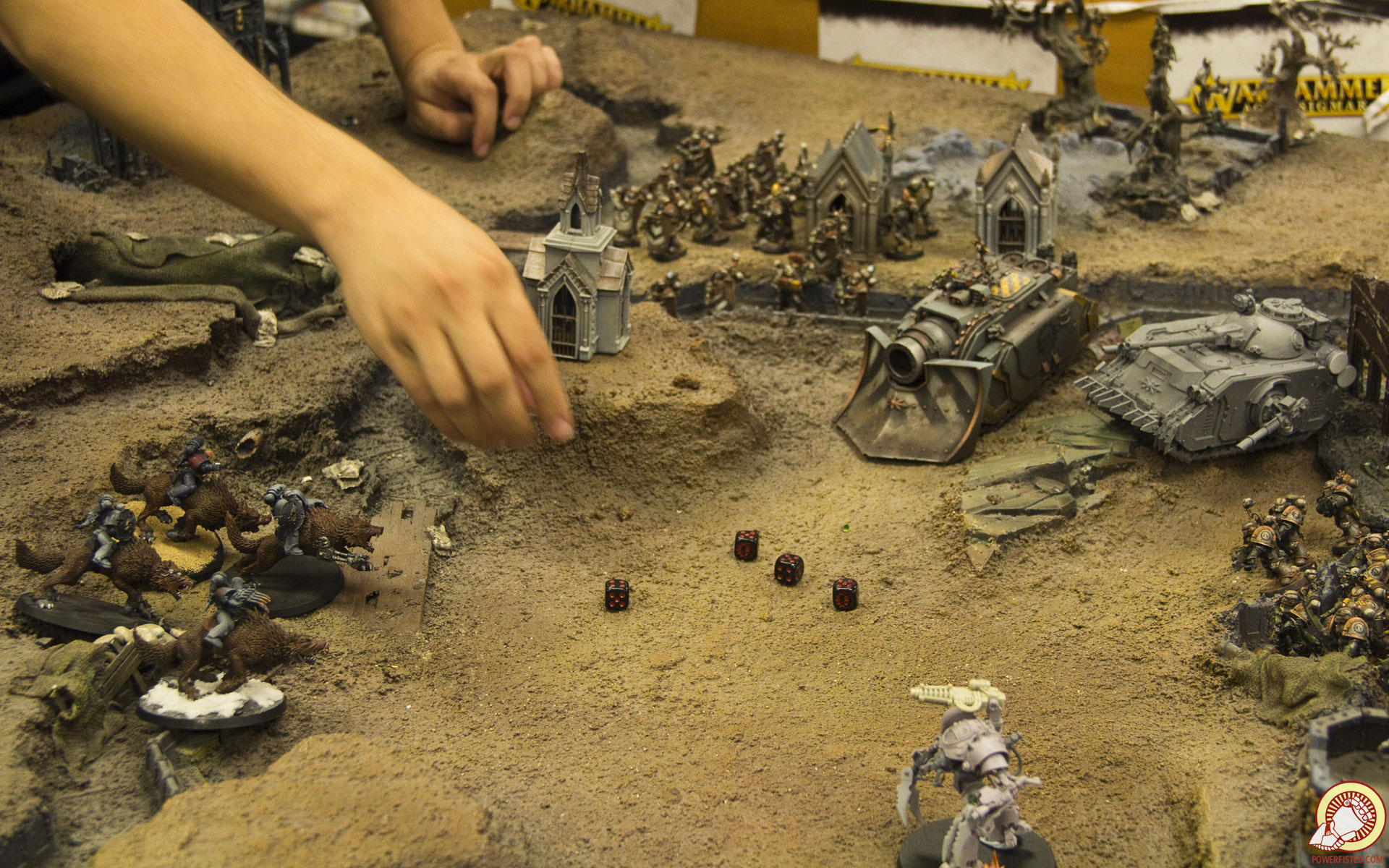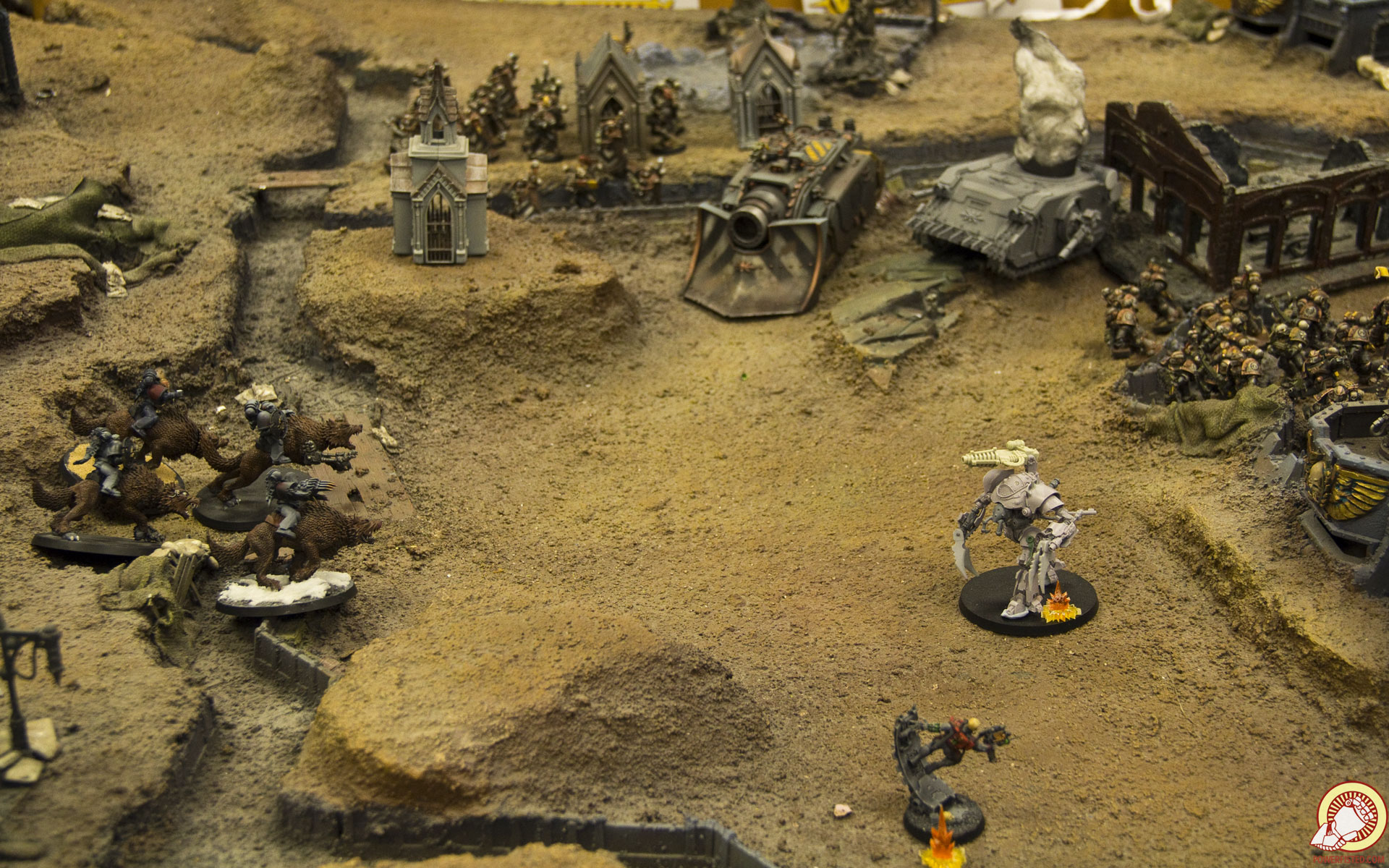 Things immediately became interesting when Sisko detached his wolf lord and made a dukes of hazard ballin 10" charge right into my Castallax. The Eversor joined in too. Despite their reputation as tanks, having only a 3+6++ and I3 in melee wasn't enough to keep him alive for long. He lasted until the end of my second turn, leaving a wide open path to charge the my more fragile Legionnaires: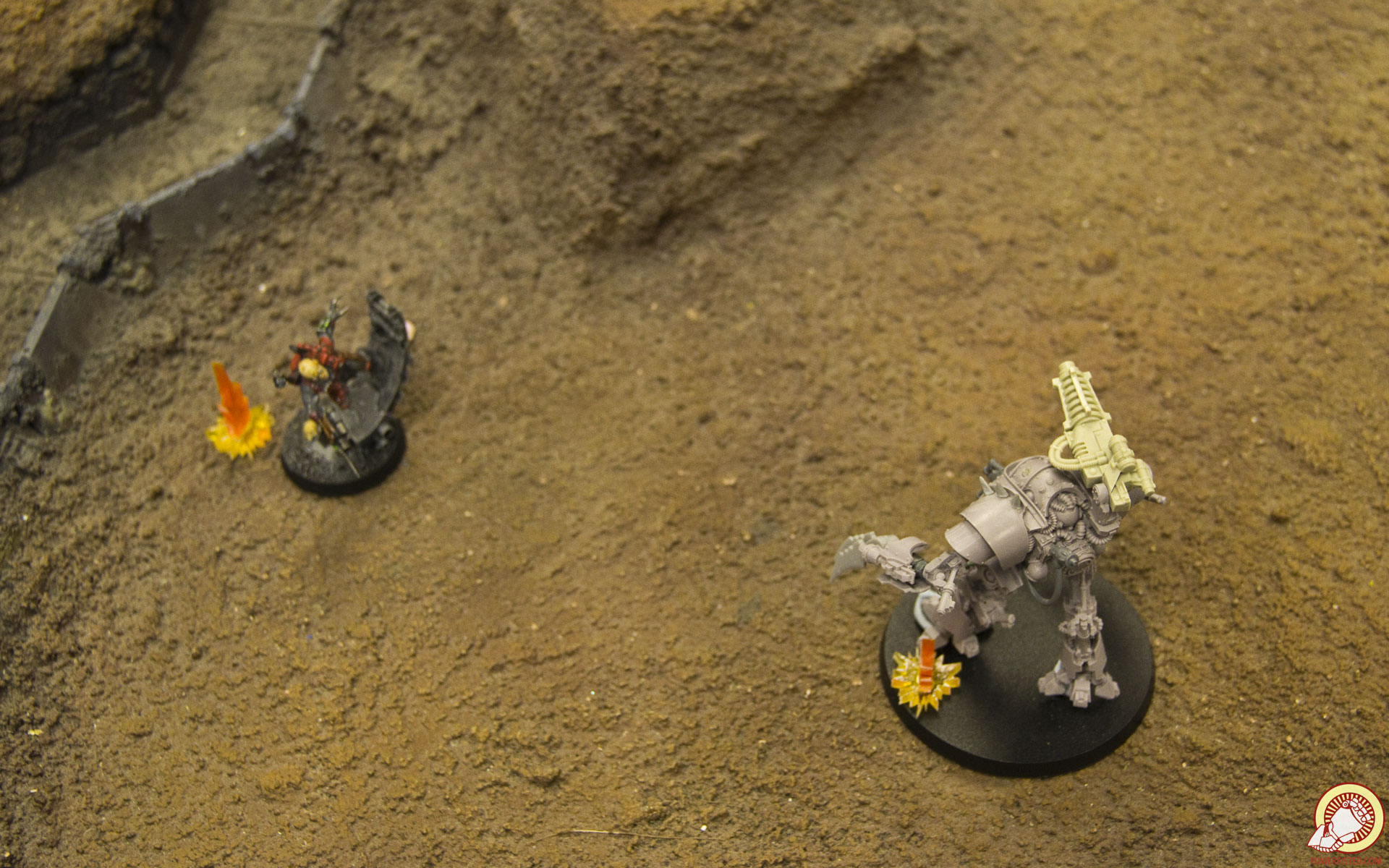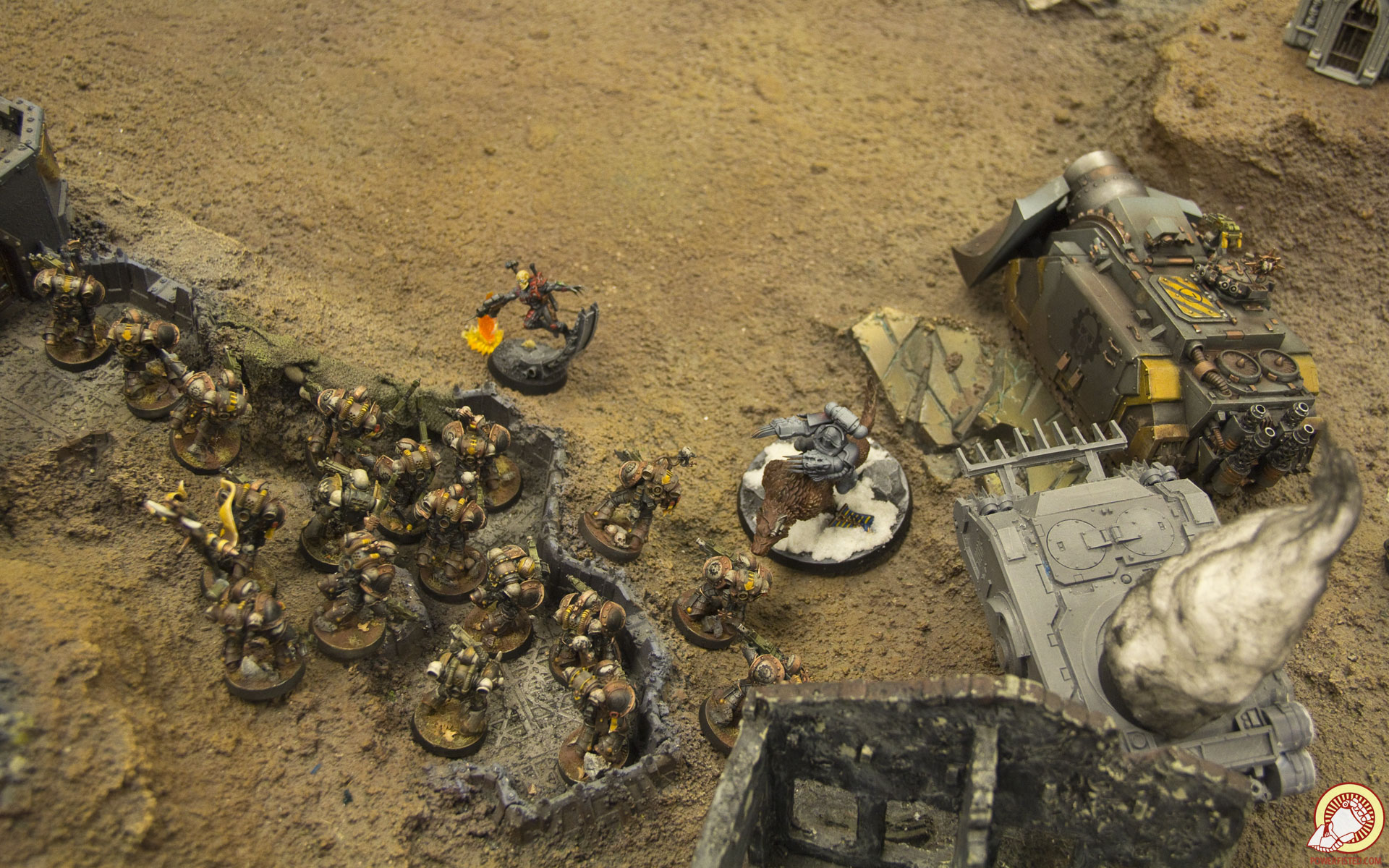 Turn 2 my thud gun was able to put down the Vindcare, the weight of fire of my legionaries + vindicator took down the remaining wolf cavalry, and my Magos beamed down from space into Sisko's rear lines and began chipping away at the long fangs. Sisko in turn glanced my vindicator and deep struck a nasty squad of terminators into my backfield. Luckily for me, and unluckily for Sisko, they scattered near my breacher squad who had interceptor. I rapid fired everything I could into them and managed to take down 2, leaving 3 very angry Vikings alive in my backfield. We both earned linebreaker this turn.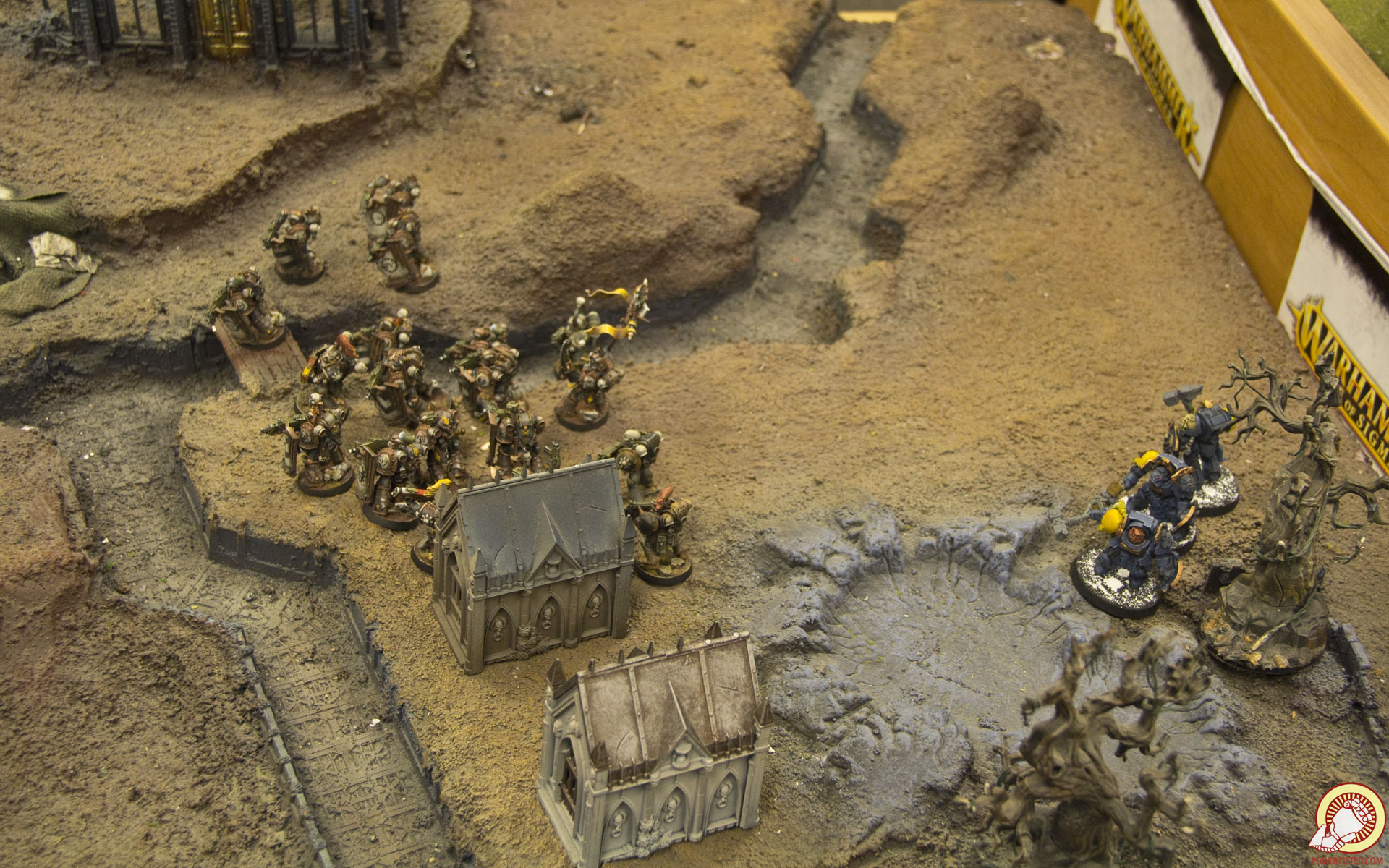 Turn 3, my 2nd Vidicator outflanked into Sisko's rear lines. I have a growing respect for surprise vindicators as it's pie plate, combined with the fire from my Magos, really did work on his long fangs this game: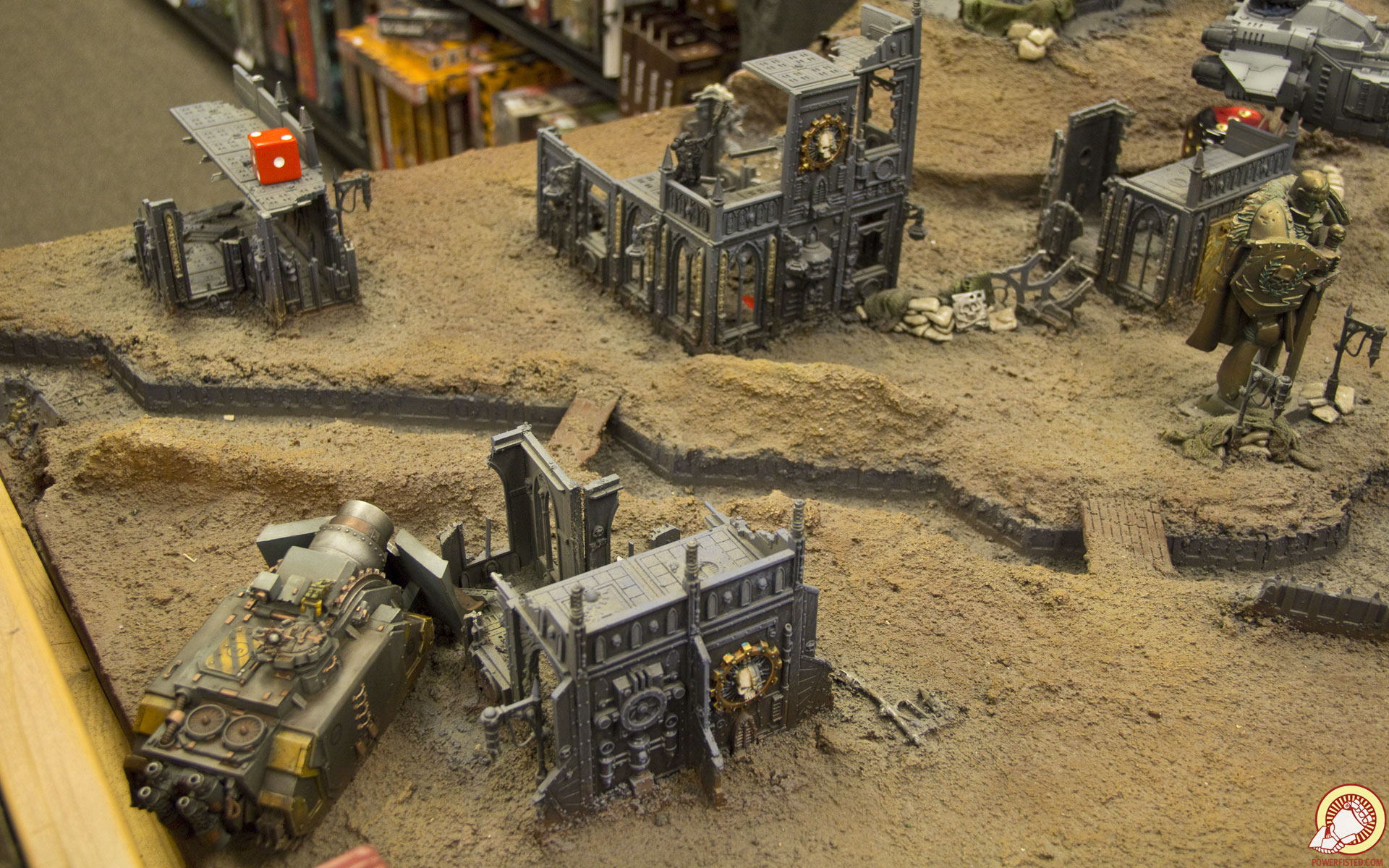 Sisko's assault ram came onto the board. With his terminators far away from the objective he had no choice but to send it down the middle to deal with my other vindicator and grab the objective if he could: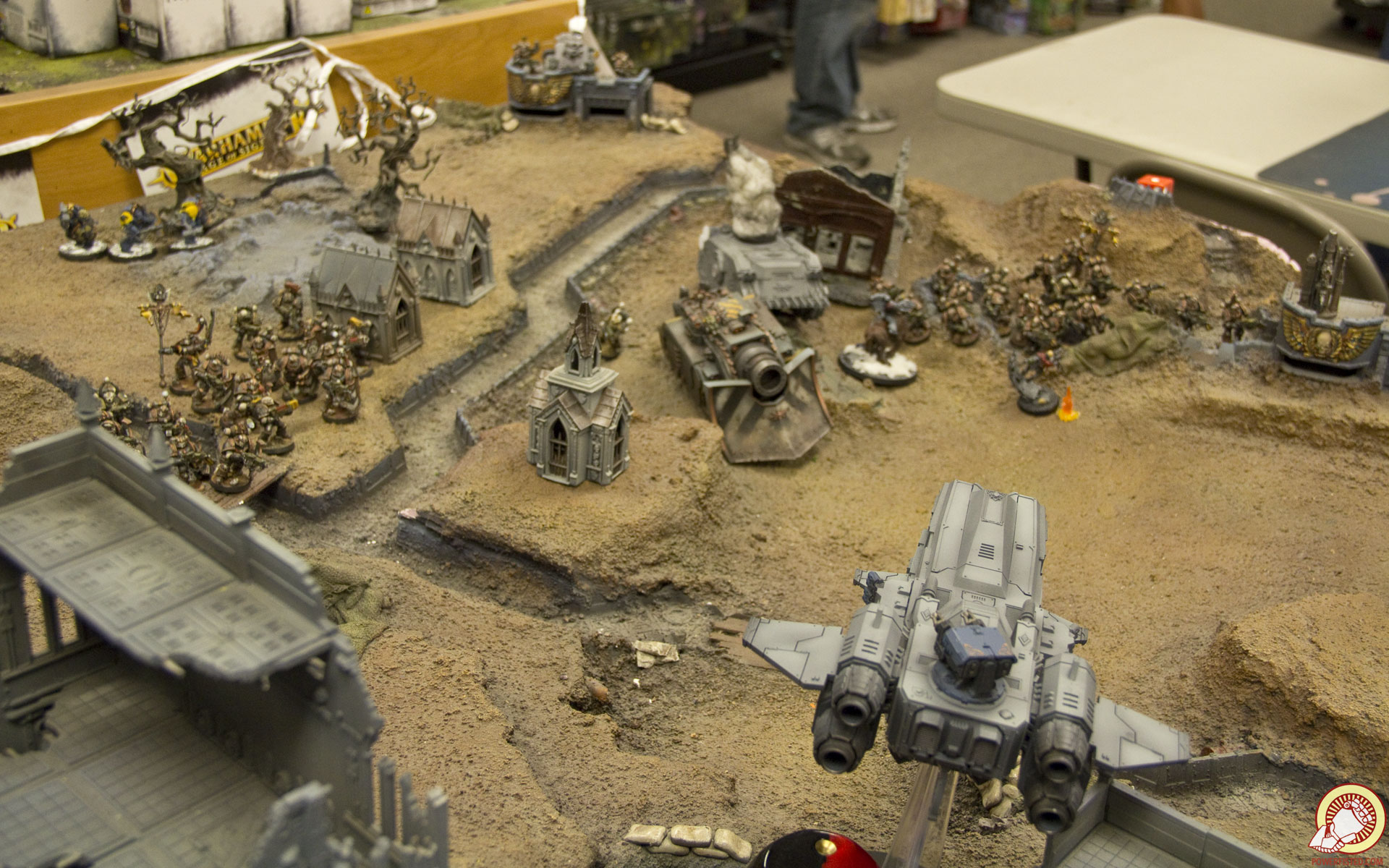 Meanwhile, at the end of turn 2 Sisko had charged my Legionaries with both his wolf lord and Eversor Assasin. The poisoned attacks from the Eversor turned out to do little against my FNP marines, but the wolf lord's lighting claws ripped legionaries to shreds handily. My counter attack was pretty desperate, but put no wounds on his melee guys. I lost combat by 3 and failed a tough morale check… the squad was about to break and be swept to a man… but instead they looked at their legion vexilla waving overhead. Giving them a badly needed re-roll, I managed to pass my leadership my second time around and kept them steady enough to kept fighting. They kept on fighting through turn 3, slowly loosing men, but holding steady. Perhaps re-Invigorated by the Vexilla, or because I rolled well, my sergeant manned up and put two poweraxe wounds on the wolf lord: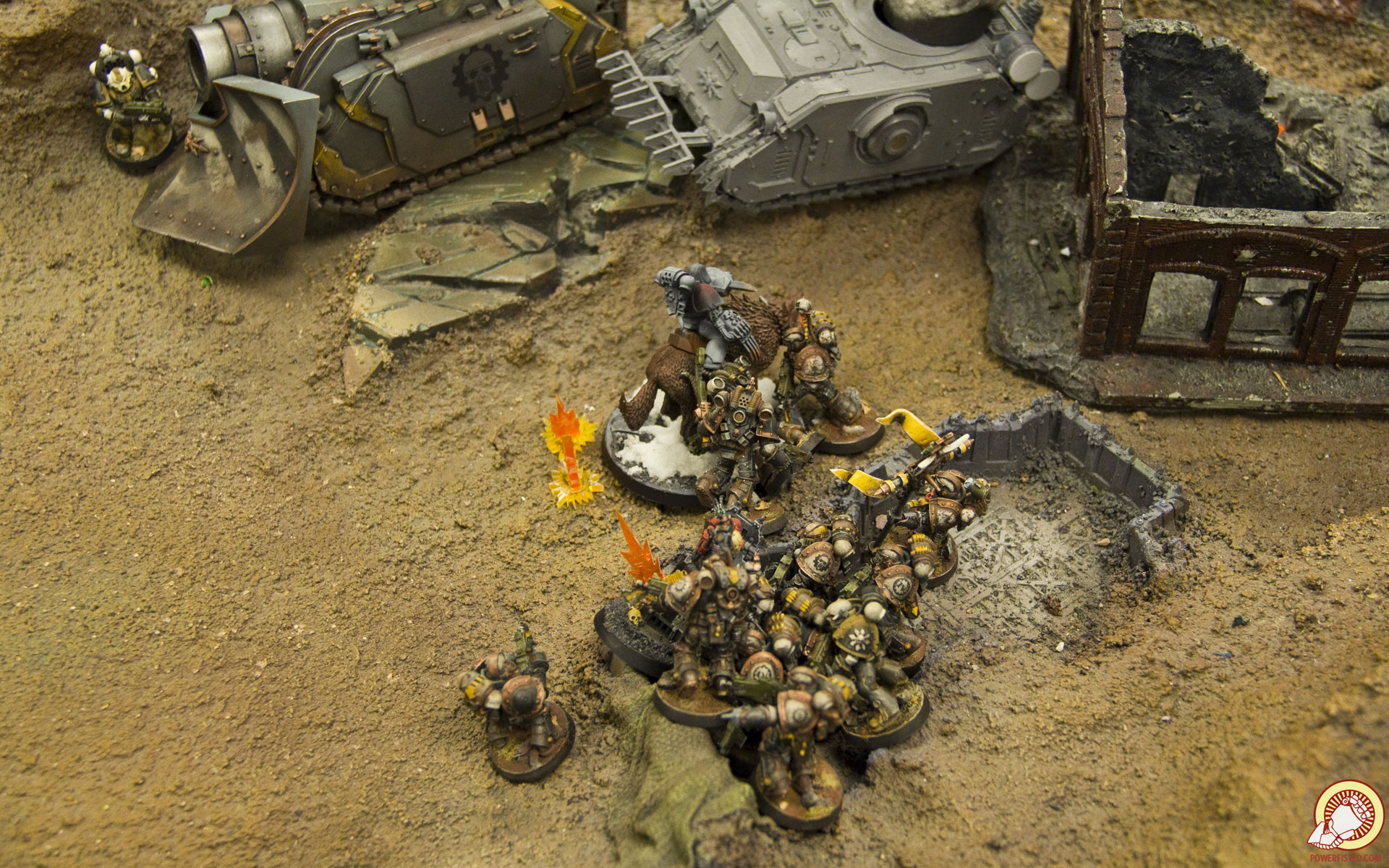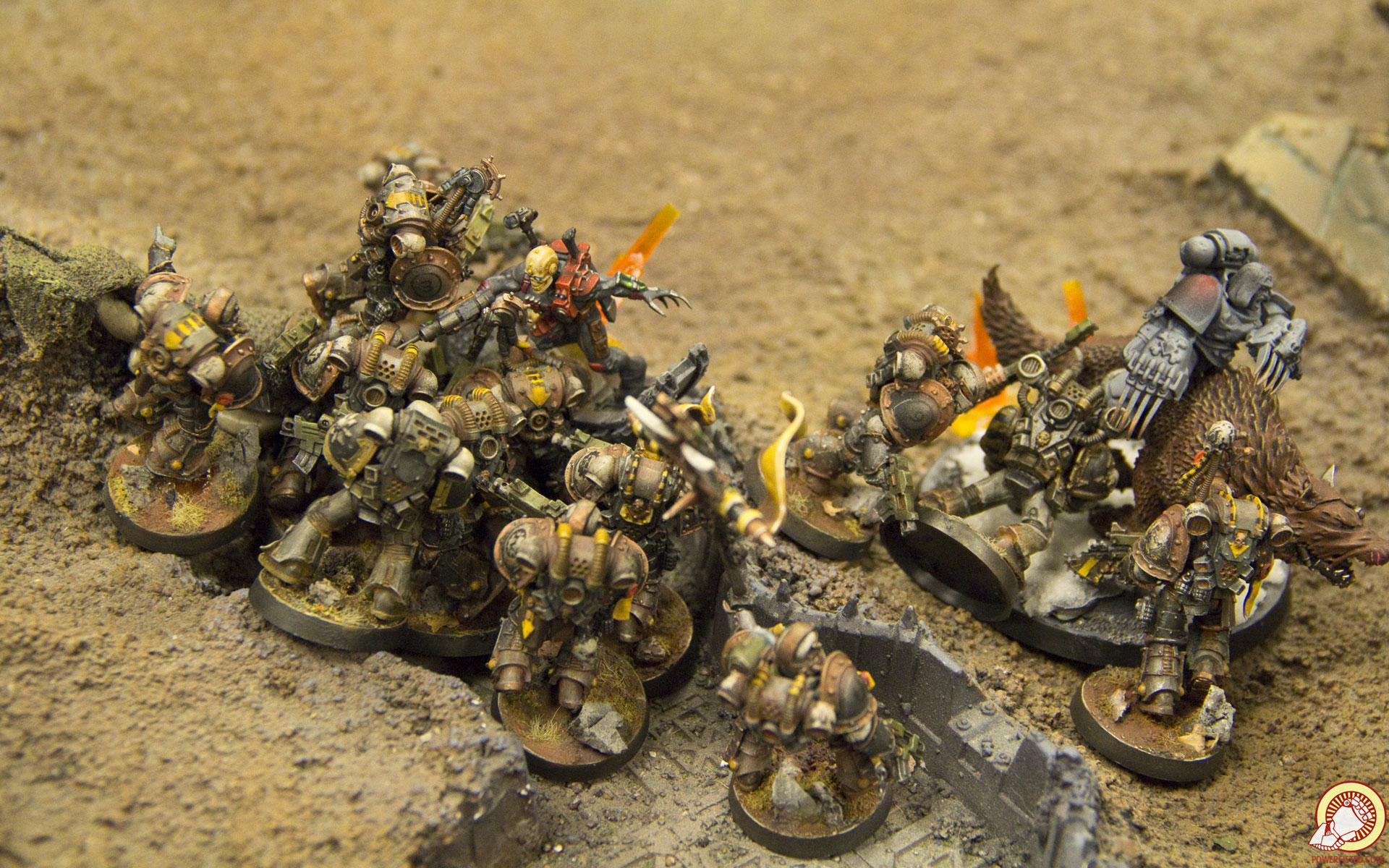 The breachers charged the terminators. Despite only having 1 attack each due to their shields, when combined with my chaplain they put enough wounds to take one down. The chaplain challenged the sergeant and knocked him out of the fight, leaving one terminator left who swung back and turned 3 breachers into a red mist.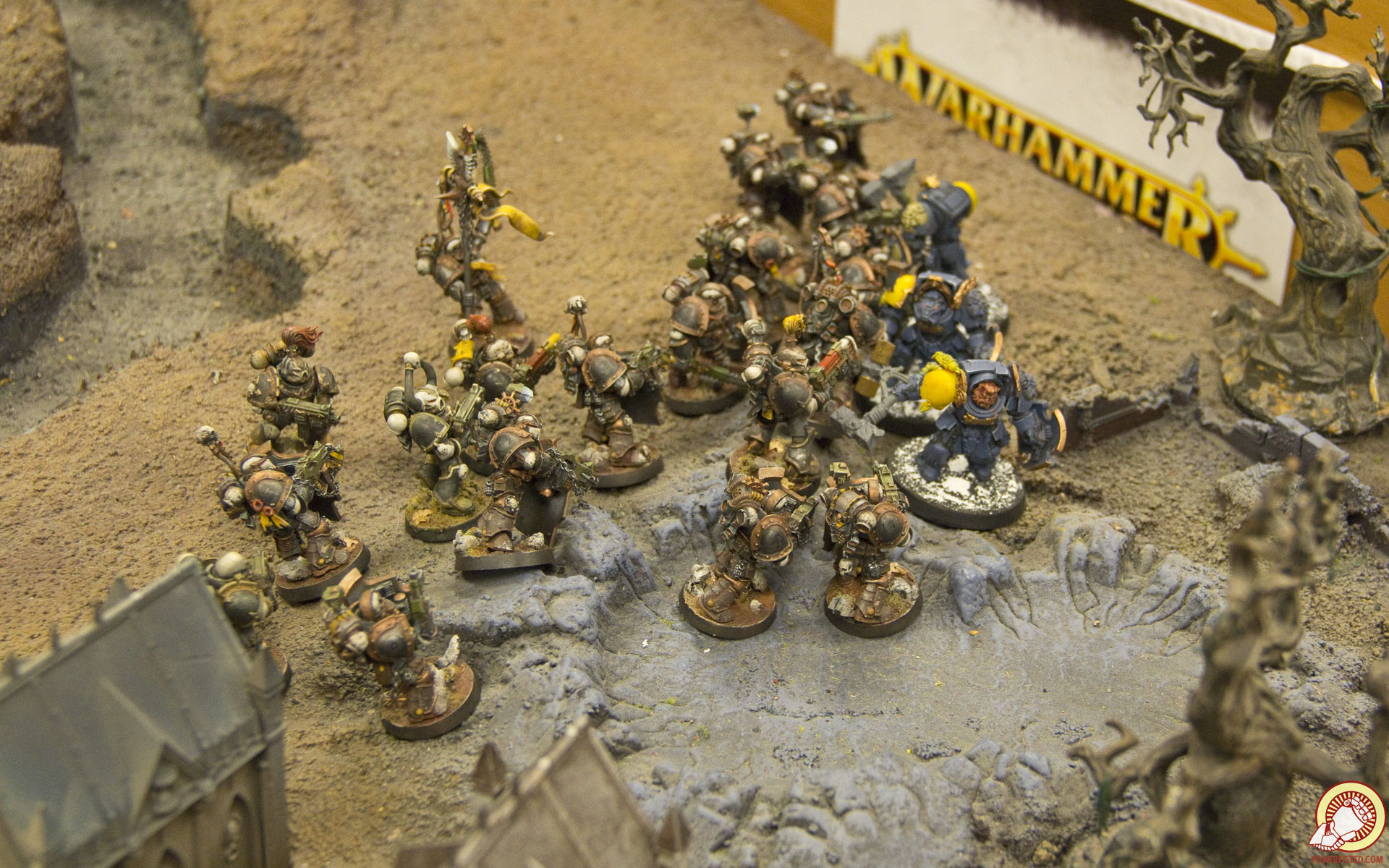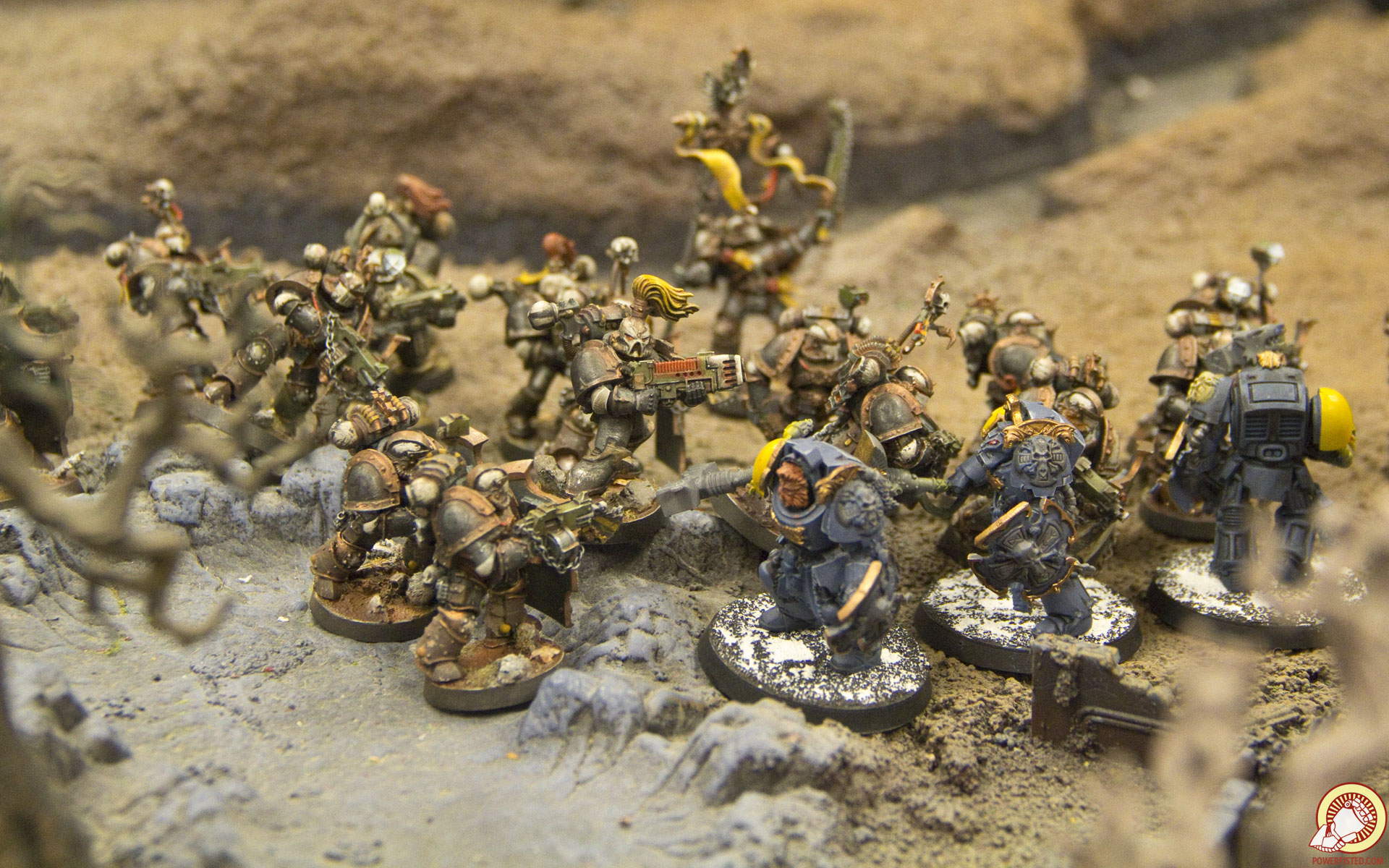 Blasting at it with all guns, the assault ram immobilized my vindicator guaranteeing that it couldn't point its gun at the desperate melee going on nearby. More importantly, it cleared a path to my objective: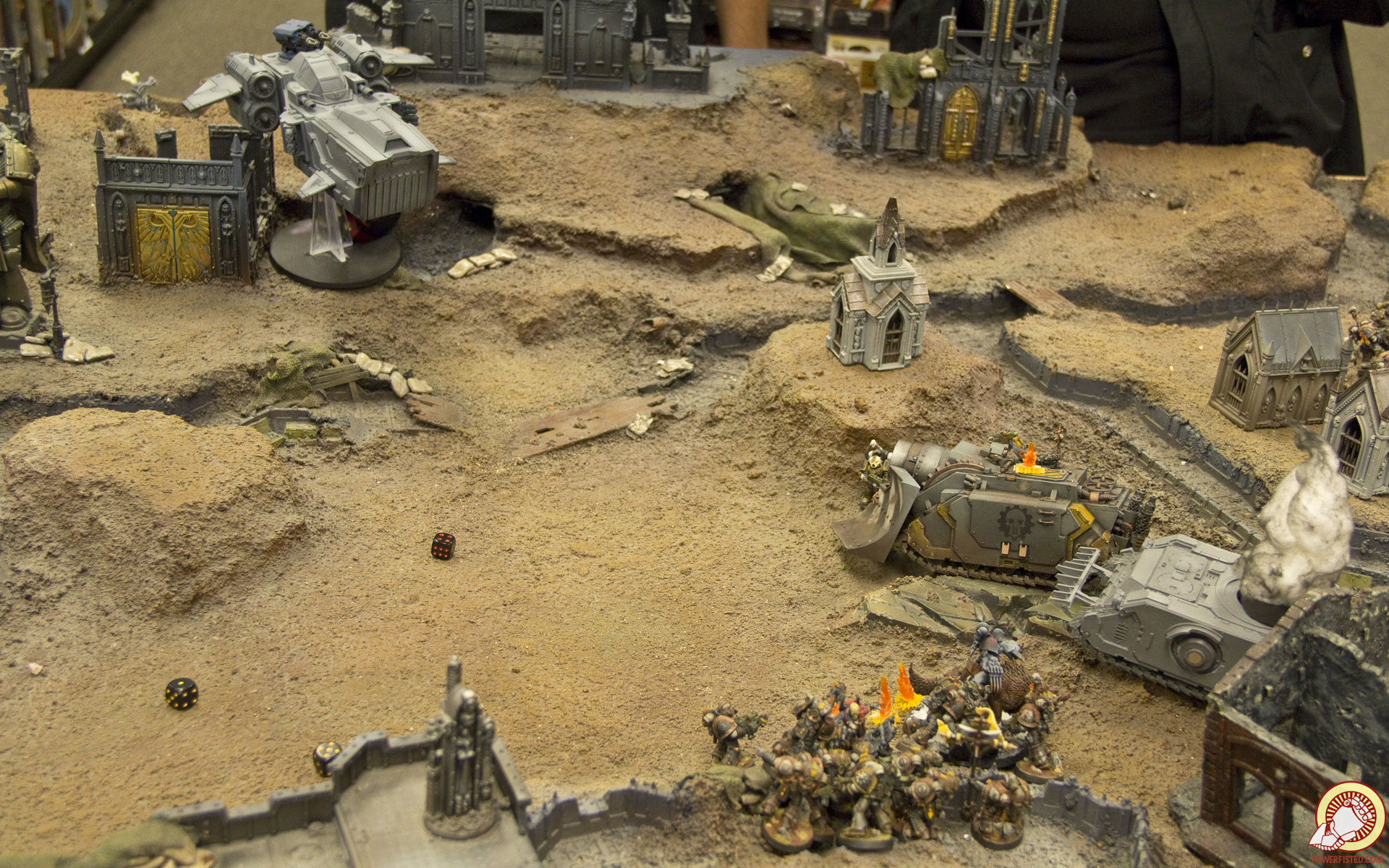 Against all odds, the legionaries held against the wolf lord and Eversor for another round of combat. The Sergeant decided to man up again. Somehow, to everyone's surprise, he slew Sisko's wolf lord in combat. I'm definitely going to give this guy a cool looking model with some battle damage to commemorate the moment. This melee (between the Eversor and the Legionaries commanded by Sergent 'Axe Cop') would continue for the rest of the game. My guys getting killed off 1 or 2 at a time, but still holding steady.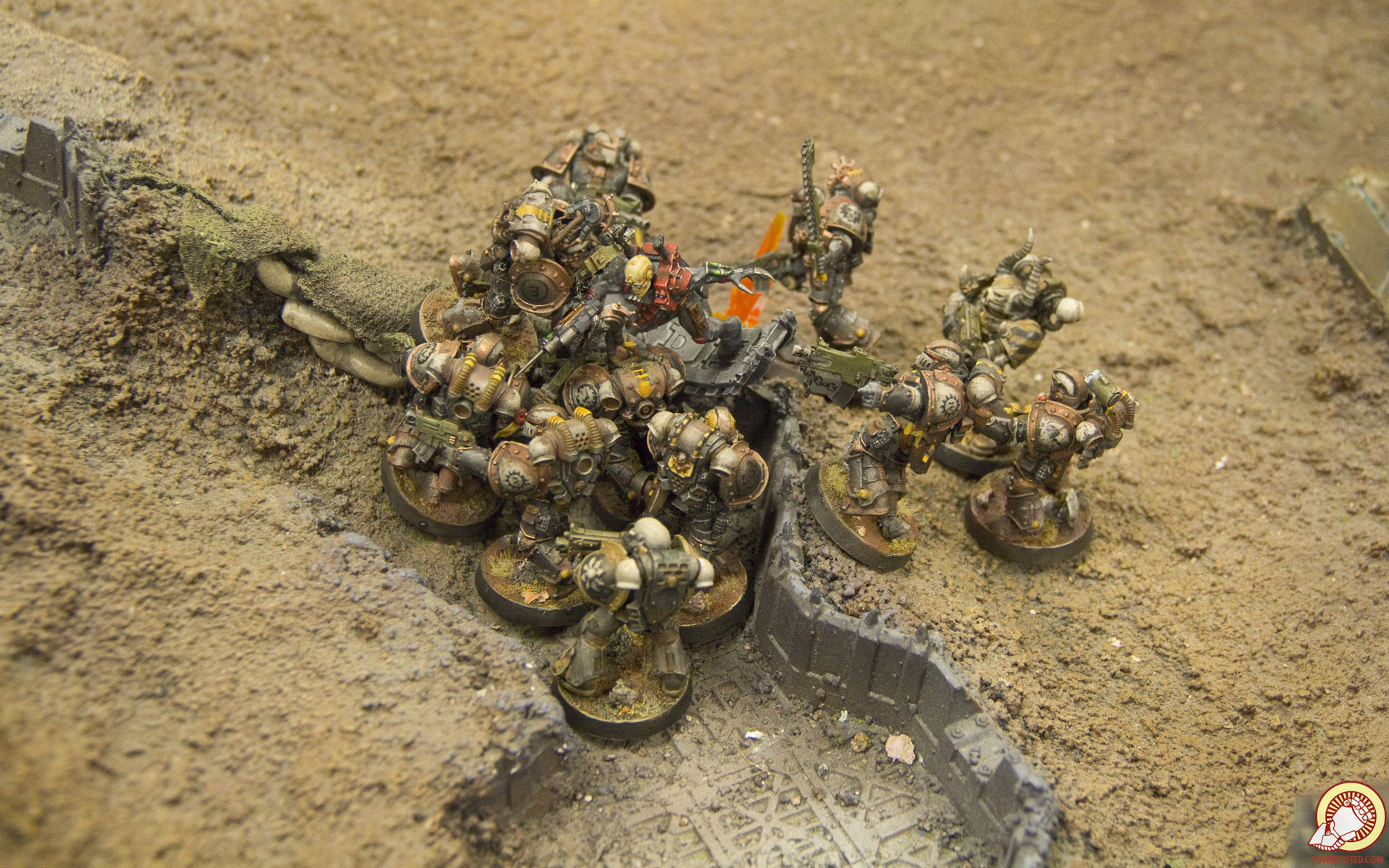 Pulled down under the combined weight of all my breachers the last of Sisko's terminators went down as well: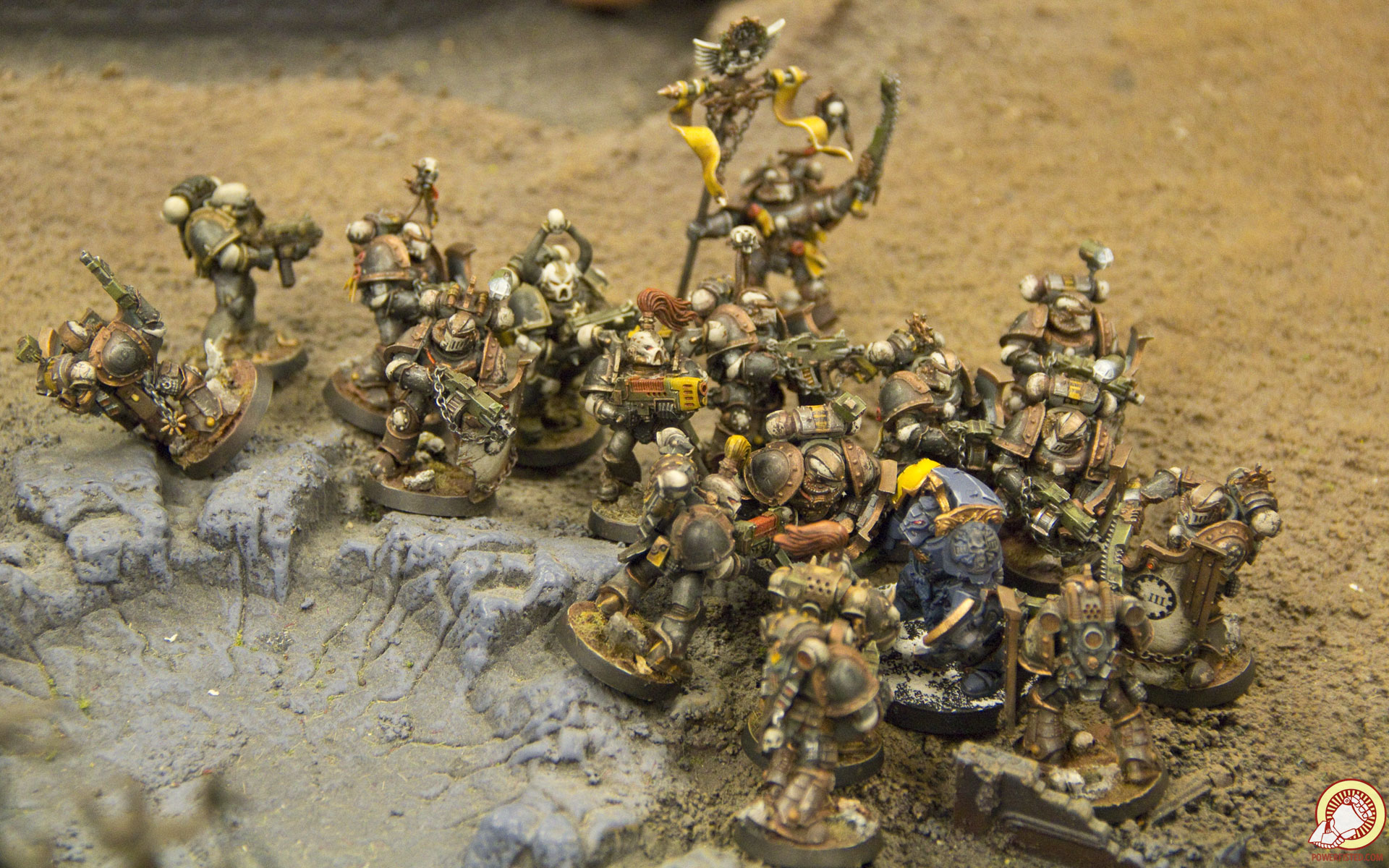 Turn 4, I consolidated my breachers and ran them down towards my home objective. By this time, my outflanking vindicator and magos had finished off Sisko's long fangs and moved onto it to score. Sisko blew up my immobilized vindicator and disembarked his tactical squad for a last second objective grab. Turn 5 my thud gun and breachers took out the tactical squad, but with no AA weren't able to blow up their scoring transport: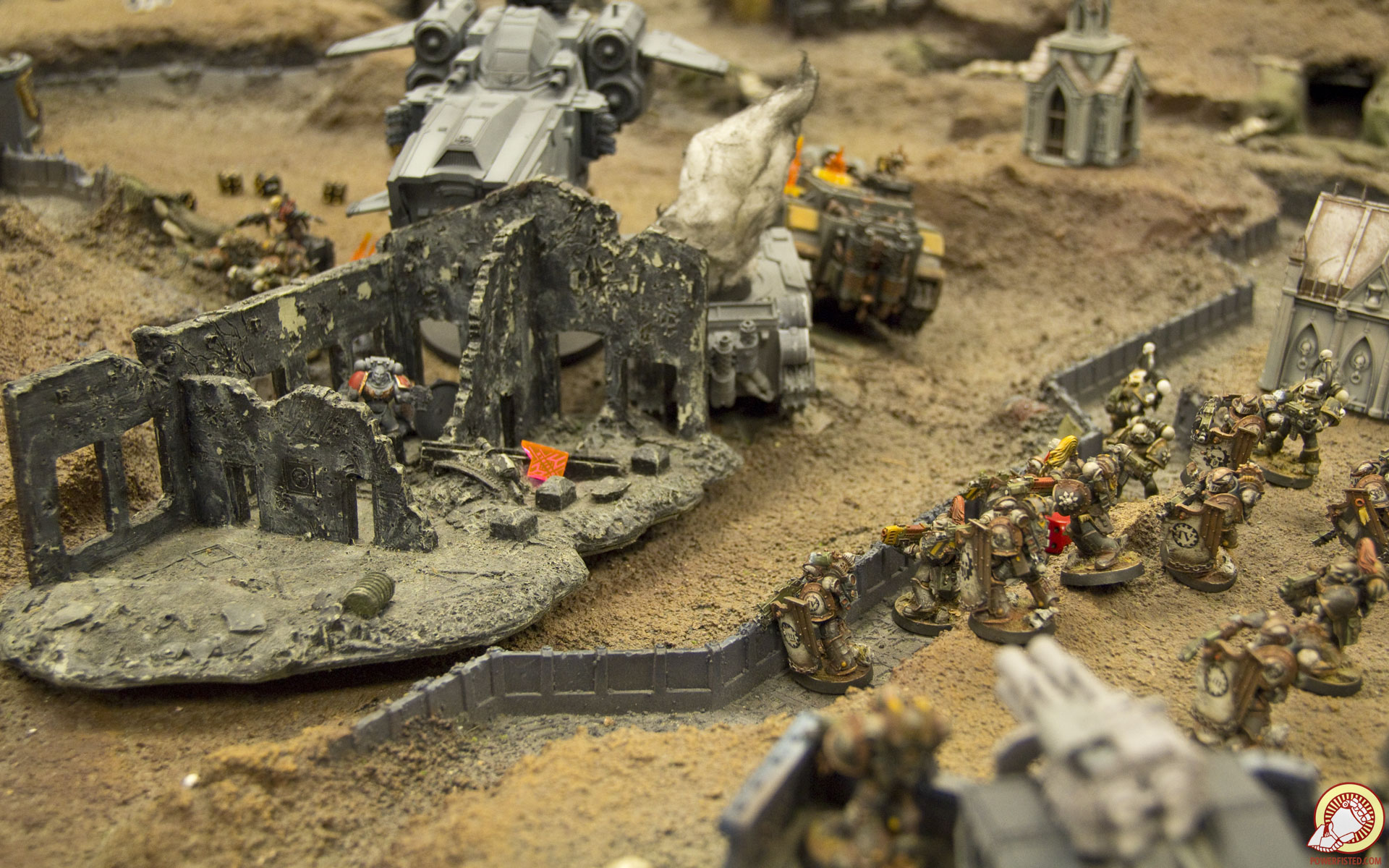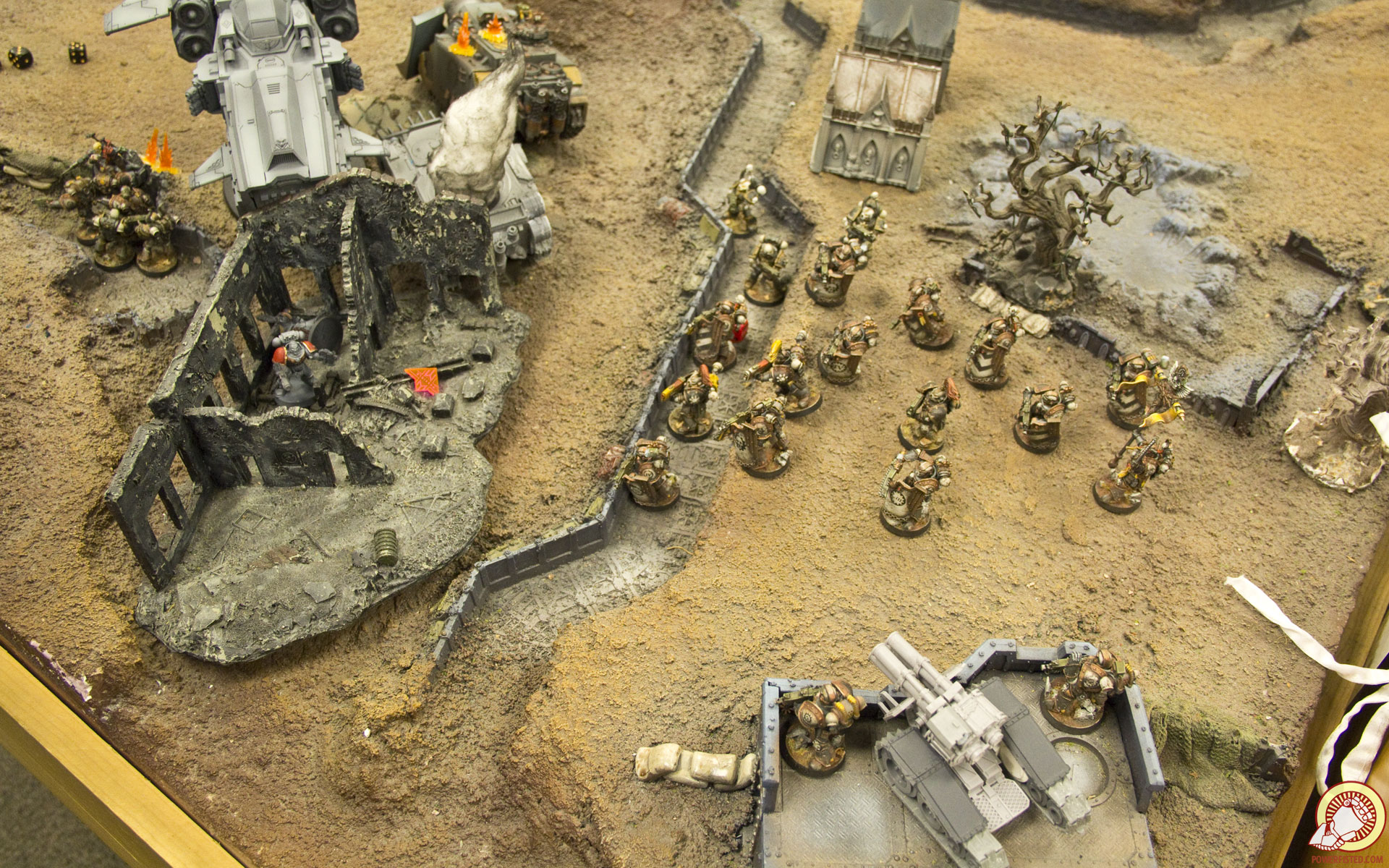 Sisko's smart end-game resulted in a well deserved tie!
Sisko: First blood, Linebreaker, Objective
Bulbasaur: Slay the warlord, Linebreaker, Objective
I had a blast playing on such a gorgeous table. Sisko, for being a strange man I met on the internet, is a good dude and fun sport. We'll definitely play again. Here are some cool artsy pictures for bonus content: